Easter Recipes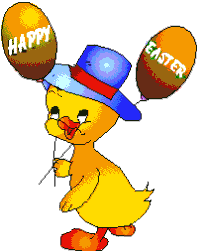 Easter Bread Braid
 Easter Nests
 Bird Nest Cupcakes





Easter Bread Braid
2 pkgs. dry yeast
1/2 cup warm water
1/2 cup butter
3/4 cup milk
1/2 cup sugar
2 eggs, lightly beaten
1 1/2 tsp. salt
5 cups all-purpose flour
6 soft-boiled, dyed eggs
1 egg
1 tsp. water
Method
In a large mixing bowl, dissolve the yeast in the warm water. Meanwhile, melt the butter in a saucepan, add the milk and heat until just warm. Pour the mixture into the bowl with the yeast. Add the sugar, eggs and salt, and stir well. Mix in the flour, one cup at a time, until a soft dough is formed. Turn the dough onto a floured surface,adding flour if the dough is too sticky to handle. Knead until it becomes elastic. Place it in a lightly oiled bowl,
cover, and set in a warm, draft-free area until doubled in size (about 1 hour). Punch down the dough. Divide it into three equal parts and roll each piece into a 20-inch-long strand. Lay the strands side by side and gently braid them. (to avoid tearing the dough, braid from the middle out to an end; repeat with the other side.) Place the woven dough in a wreath shape on a greased cookie sheet, tucking the ends under. Sink the eggs into the dough. Cover and
let rise until double in size. Beat 1 egg with 1 teaspoon water and brush the wash over the dough. Bake in a preheated 350-degree oven for 25 minutes or until golden brown.
(Use non-toxic die only when coloring the eggs)

---
Easter Nests
7 oz marshmallow cream
1/4 c peanut butter
2 tbsp margarine-- melted
5 oz chow mein noodles
1 c M&Ms plain chocolate candy -- pastel colors
Method
In a mixing bowl, combine marshmallow cream, peanut butter, and margarine until smooth. Fold in noodles and M&M's. Chill until easy to handle. On waxed paper, form mixture by 1/3 cupfuls into 3" nests. Chill for 30 minutes. Place several M&M's in each nest.
---
Bird Nest Cupcakes
Your favorite cupcake mix
Your favorite frosting mix
Long strand coconut
jelly beans (pastel Easter colors)
Method
Bake your cupcakes. When cool frost with white or chocolate frosting. Decorate with coconut around the outside circle of cupcake. Place colored jelly beans in center. Coconut can be toasted if you prefer a brown nest!
---